The Artist
The artist and painter Herdin Radtke began to create three dimensional sky scrapers from clay when he was only eight years old. He went on to draw the downwards reducing objects in perspective from a bird´s eye view. Without knowing where the journey would take him he drew and painted just for fun. Yet, after grammar school he became more interested in his guitar than his coloured pencils.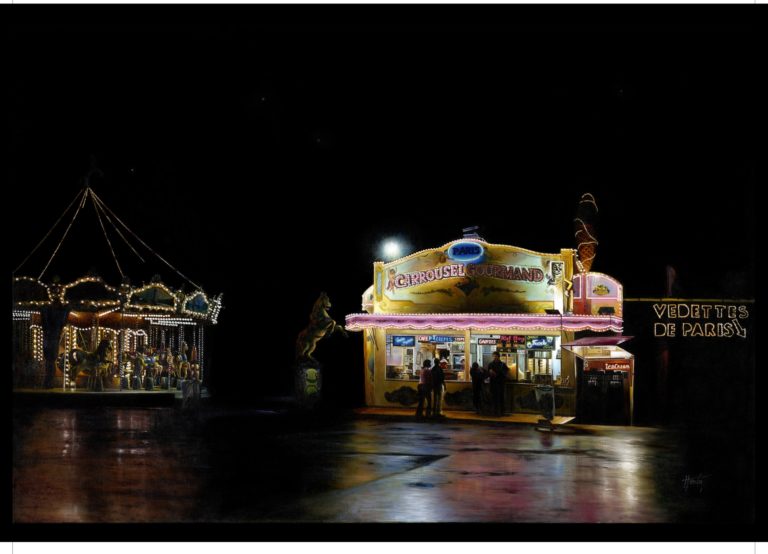 This changed in the seventies when he took to painting in oils. The sculptor and painter Heinz Wilhelm Becker influenced his decision to go down that way.
Herdin went to Rome and studied the painting of light through the works of the great masters of the past. Rembrandt, William Turner and also the brilliant still life and floral painters of the Dutch school were his role models. He was never very impressed with the then emerging modern art. He was much more fascinated by the grand paintings of the past and the possibility to express everything his inner self wanted to convey through a painting.
Chance and providence of fate took him to Calanques in Spain after a long and tiring journey. There he wanted to stay the night. The night turned into 5 years. From 1978 through 1982/83 he lived at Calle del Call NR 4 and soon belonged to the last group of international artists who worked in the circle of Salvadore Dali in Cadaques. He was introduced by the German painter Bengel who had been there for quite a while already. Bengel was the only ever artist who could call himself a student of Salvadore Dali. Five rather wild years followed at this charming and picturesque location with Herdin diving into the wonderful world of art with its machinations and personalities. During that time he continued to paint with great enthusiasm. The then secretary of Dali Mr.Enrique Sabater bought some of his original oil paintings through the intermediary of the Latin American Carlos Lozano. This led to personal contacts with Gala and Salvadore Dali.
Restoring some older works of Dali commissioned by Enrique Sabater provided Herdin with a closer relationship. He will never forget squeezing the contents of an overgrown tube of toothpaste over two typical wooden Spanish chairs piled on top of one another at the Dali museum in Figueras. Herdin was given a small collection of original Dali lithographies as payment for the various tasks he conducted. During a private party at Dali´s house Herdin sang the Russian song OCHI CHERNYE for Gala and the Toscelli Serenade for Dali himself. The artist spontaneously gave Herdin one of his well known ebony walking sticks with the hand carved head of a dash hound as a present.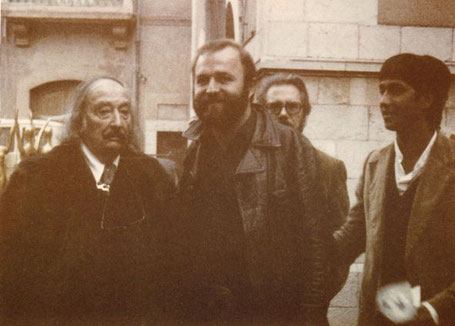 This encounter and the time spent under this surreal picturesque artistic roof would influence Herdin´s later work as a painter.
He was never much impressed by the so called "modern art". During the following years he continuously searched for a new painting identity. Surrealism appeared to him to be the last form of painting which required not only ingenuity but also a high level of skill.
1982/83 Herdin Radtke left Cadaques and returned to Germany for a few years. Working at Seefeld Castle on Lake Ammersee he had a small studio. He spent more and more time on studying the basics of oil painting and how to create shapes in combination with light and shade on canvas.
His paintings were inspired by the Dutch still life and flora paintings which he worked on again and again. People became interested wanting to learn from the master of colour and light. He began to refine his techniques and analyse it more and more. He started his first workshops and was the first to employ new mediums even developing his own which he continues to use today.
Quite spectacularly he no longer applied the medium to the brush as was the custom to thin the paint but he applied it straight to the primed canvas. That way he could use the thin film as an easy to manipulate base on which to expertly combine shapes, colour and light. The medium also accelerates the drying process allowing him to "paint in stages" by applying it in short succession. This in turn makes it possible to create depth in the painting through glazes using light and shade to achieve a 3D effect. According to Herdin Radtke it becomes the SOUL of the painting.
All these discoveries spurned him on to search for a deeper understanding of the formal design of a painting. During that period he also developed a plan concerning the use of light and colour. It became the "big, medium, and small concept with butterflies" for realistic presentations through to abstraction. He continued to live off the sale of his paintings inspired by the Dutch Masters. At the same time he began to experiment with his so called wave paintings using the wave as a linear, scientific, physical object creating new expressions in a painting. This later became the basis with which he gave paintings of the 21rst century a new identity.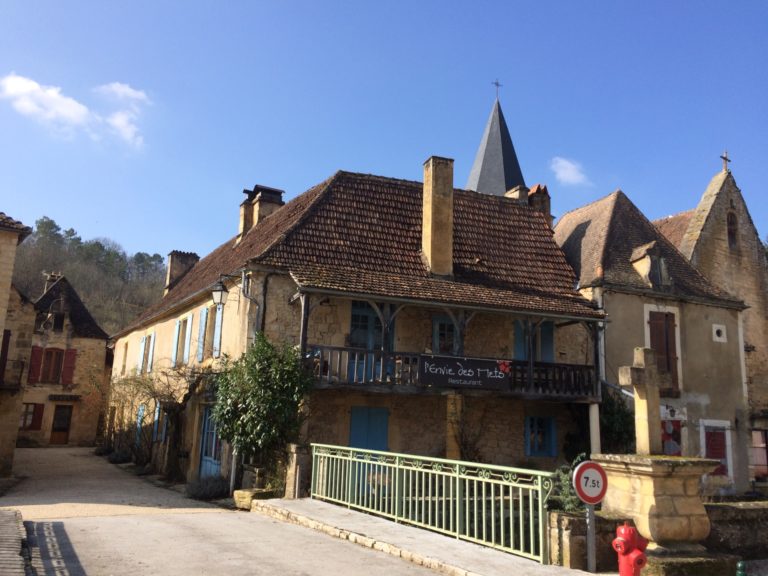 In 1990 Herdin left Germany and moved to France to a small picturesque village called Saint Pompon. Not knowing the language he concentrated entirely on his work. Bit by bit he developed a new concept to teach oil painting. This was aided by the many questions his students confronted him with during his increasingly popular workshops which helped him keep his head above water financially. His contact with the gallery owner Bernard Bardou who runs 9 galleries across France kept him busy as a painter and ensured that his brushes did not run dry. His exuberant baroque type floral paintings and still lifes conquered the whole of the French market while he continued to work tirelessly on his teaching method.

With the turn of the millennium he stopped painting these kind of works concentrating entirely on his workshops in order to complete his POMPONIST TEACHING METHOD named after his home town ST.POMPON.
Herdin now started to commute between Germany and France publishing two artists handbooks in 2008/2009. They were written in German titled THE MAGIC OF OILPAINTING and LANDSCAPES in OILS.
Thus his way of teaching achieved copyright status. During the following years he produced some 30 teaching videos. Since then his teaching method has been practised more and more all over Europe which inherently created a pomponist movement. It helped to spread the understanding of how to control light in a painting.
The high point came in 2017/18 when Herdin Radtke discovered the original mathematical formula of painting in 3 D.
THE VISIONARY AND EXPLORER
TRIBUS OMINA
AREA / LINE + GRADED CONTRAST = 3D VISION
He published his findings also lecturing on the subject. At present he is working on two books to cover the topic conclusively.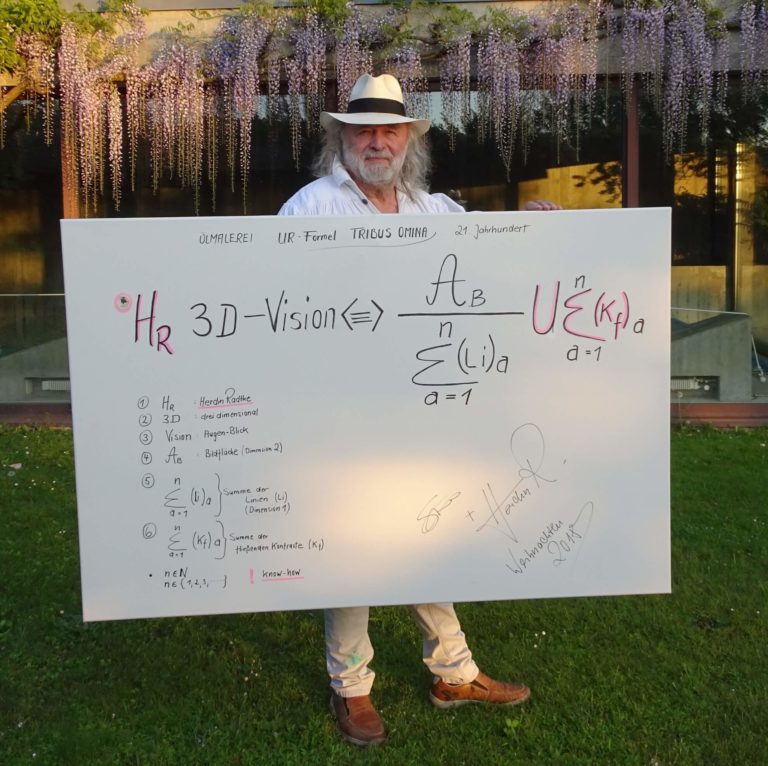 In his paintings Herdin increasingly employs the controlling properties of light to express himself. This is seen in COMBINING, CROSSING, CONFRONTING various curves in WAVE SHAPES. Add to that light and shade, well placed to create overlapping spheres which he unites with realistic forms.
His work now aims at presenting the invisible of our fantastic unique world in harmony. He wants the futuristic form of a wave to become the driving factor in our society when creating a painting. This is to define his work from now on as a thank you for our presence on this planet heralding a new era without a foreseeable end to contemporary art. Above all this Herdin sees the passion to paint, the skilful play with light, colour and form almost as a sunshade for life. He envisages this as the driving force behind the creation of works of art opening up a new impassioned garden of fine arts adding a new dimension to serious painting in the 21st century.
When he told a friend (a university professor for artificial intelligence) about the original formula of 3 D painting (AREA / LINE + GRADED CONTRAST = 3D VISION) he said: Either you are mad or a genius. Herdin´s reply : I prefer to be both. According to Herdin realistic paintings will acquire a new identity in future. It will rise above the modern art cult and regain its original value. That is to make people happy and content and make them stand in awe. Paintings are expressions of the soul showing emotions. This is what people need, what defines them, and which unites them.
Maybe new works will emerge again … unprepared, not planned … which can be called works of art … Maybe art will return to its original structure of harmony and the reality of life.
THE MUSICIAN
When he was 17 Herdin Radtke stumbled across a very old, partly broken lute in the loft of a farm. It was fitted with a hand carved head of Mozart. He paid 10 Deutschmarks for it and went on to repair it. This is when he discovered his love of music. The sound of the lute led him to a guitar which was to accompany him all his life. At first he was influenced by the Beatles but he was soon drawn to ballads. In Munich he got to know the singer songwriter Konstantin Wecker who, being at the beginning of his career wrote a few songs for him. These were produced by the singer Fred Bertelmann in connection with the producer H. Fitz.
The production was later abandoned since BASF decided not to produce any more vinyls. Herdin went to tour the world as a painter with music his other passion. In 1982, returning from Spain he carried several songs in his luggage which he had composed and texted himself. He produced these himself together with his Italian friend and musician Mimo Patete. In vogue musicians such as the guitarist Toto Blanke helped to refine it. Herdin also produced another album with the best songs from his birth place in East Prussia, first self published by Sunrose and later officially by the then TELDEC label. He devoted it to his parents who came from East Prussia themselves. Both productions the ballads as well as the East Prussian songs are still available on CD today.
Despite his successes in art he never let go of making music and and writing songs. Even today he is working on a new release with ballads written and composed by himself.
THE AUTHOR OF ARTIST´S HANDBOOKS & FILMS
As an author of two artist´s handbooks titled THE MAGIC OF OILPAINTING and LANDSCAPES in OILS he became known internationally. The books were translated into French and Dutch.

Herdin also produced some 30 art lessons on DVD while still living in France. New ones are being created on a regular basis. The films show you how to paint landscapes, flowers, still lifes, portraits, and surreally symbolic works by applying Herdin´s POMPONIST WAY of LEARNING.
The discovery of the original formula of 3D painting TRIBUS OMINA has certainly helped. Today Herdin owns the copyright to this teaching material which does not just open up a new identity to realist painting but also leads to new opportunities for painting therapies and art lessons.
It is his aim to bring the basic knowledge of oil painting which has so far been considered to be difficult, to more people in an easy yet high-class way. This will enable aspiring artists to acquire the SKILLS to paint what they WANT from realism to abstraction.
HERDIN THE MAN
Everywhere and always a little late but way ahead with his ideas. Happy and well tempered, ready to burst into song but serious about his work and always ready to help. Full of determination, nothing is impossible!! Loves to travel, always on the go. Grab him when you can, as you never know when he will reappear. Always full of ideas, optimistic and generous … The French call him a CHERCHEUR (Searcher). He is just HERDIN…second to none…he is what he is …… human.